uniting with nature
Tono Mirai Architects celebrates the opening of a factory and café at Oyaki Farm, an agricultural area outside Nagano City. The design team notes that the place takes its name from a type of dumpling made of the wheat and vegetables that have grown throughout the region since Japan's ancient Jōmon period, which saw the beginnings of agriculture following the early hunter-gathering era.
The work is thus designed to celebrate the heritage of its site. The team explains: 'This architecture also aims to be a place where 'the architecture that was born and returns to the earth' over a long time of tens of thousands of years — using lumber produced in the prefecture and surplus soil from construction sites.'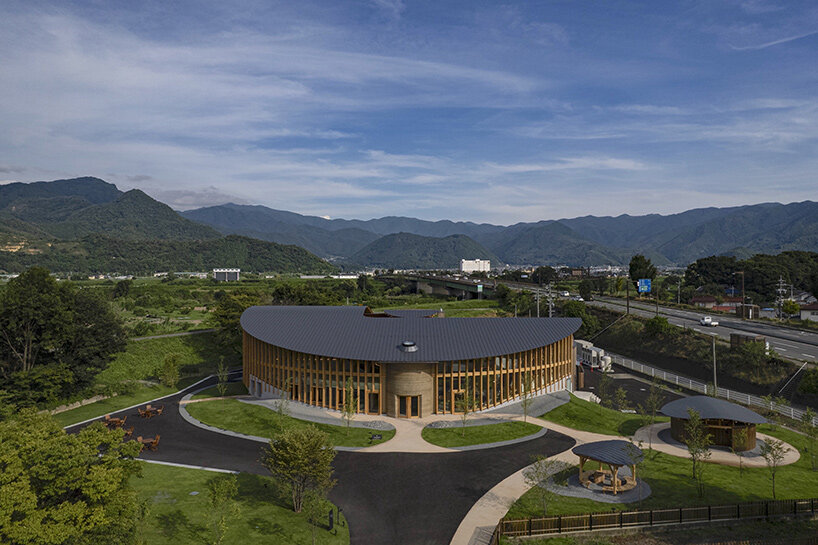 images courtesy Tono Mirai Architects
rammed-earth at oyaki farm
With its new building at Oyaki Farm, Tono Mirai Architects prioritizes the use of local, natural materials along with traditional construction techniques including timber and rammed earth. With this strategy, the architects evoke 'memories of the earth,' while at once seeking to 'uplift' the natural context through its sustainable spirit. The work is divided between its two programs — the factory and the café — which represent both the natural surroundings and the community. In plan, these distinct functions are organized between two circles, all enclosed by an arcing roof which reflects the gentle peaks of the surrounding mountains beyond.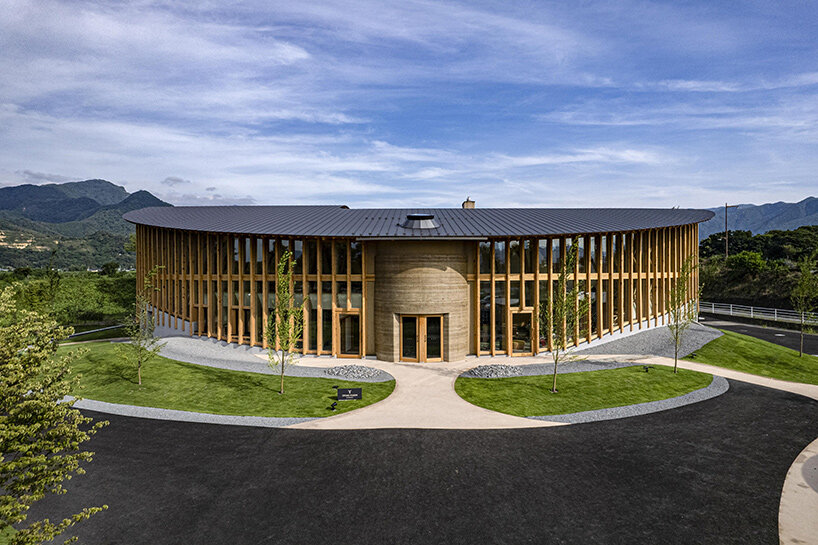 architecture by tono mirai
Tono Mirai Architects realizes its Oyaki Farm factory and café with a structure of cypress and cedar. The team describes the construction: 'The north side is a glass curtain wall with cedar drum pillars with a maximum length of seven meters. The Cedar beams and purlin on top of the radiating cypress beams, a rafter and roof with a three meters overhang of the eaves were hand-carved by a local carpenter without the use of a cane. It is done with Japanese traditional craftsmanship method fan rafters in the corner roof.'